My first encounter with an Ostwok
It goes back several years. I remember very well that a friend of mine showed me a Komandirskie with a strange logo instead of the "B" of Vostok. At the time the Internet was not very widespread and finding information about these mysterious Ostwok was not easy.
He told me that he had ordered it by mail via a form found in a magazine in Switzerland, the country where his father worked. It took me a while to find one for myself.
Here you can see my small collection: Ostwok – Vostok – SOVIETALY™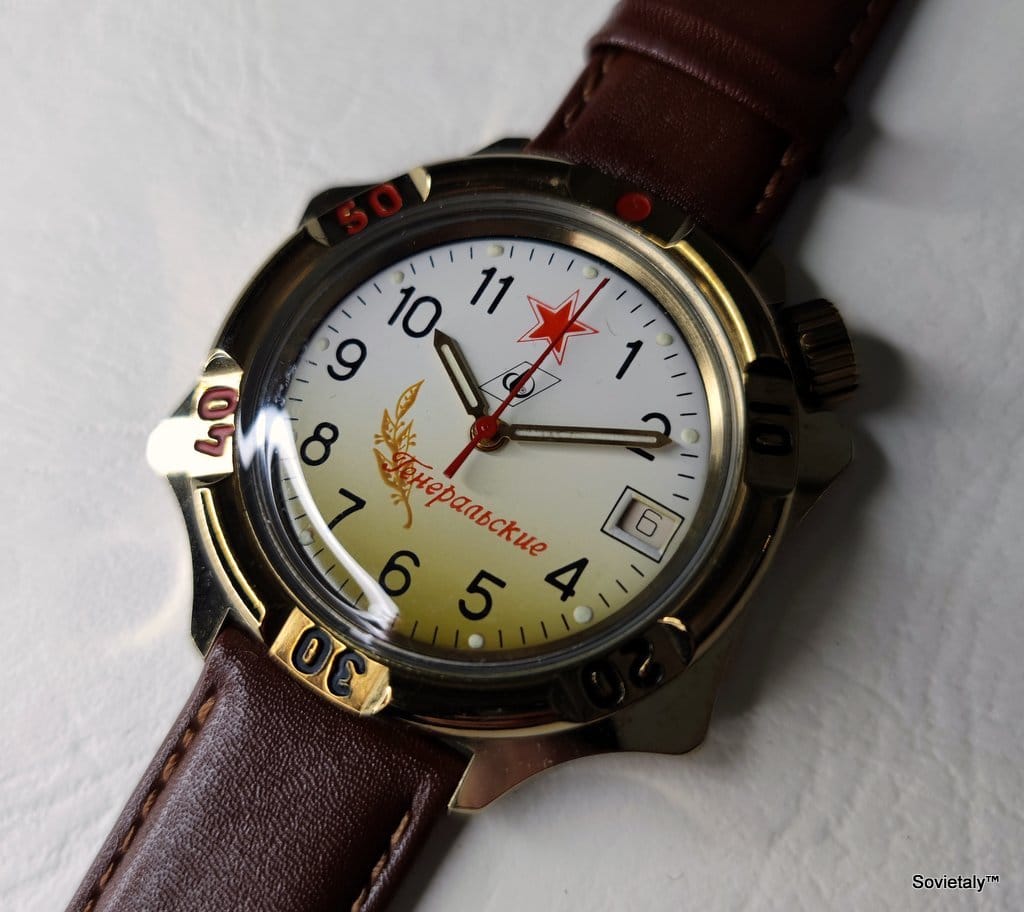 The brand name Ostwok
Ostwok is evidently Wostok's anagram. The Vostok mark for German-speaking countries was written with the W in order to be pronounced correctly, the pronunciation of the "V" in German more resembles the Italian "F". Moreover, perhaps by a simple coincidence, the first three letters of the brand form the word "OST" which in German means "East", useful to underline that the watch comes from countries of Eastern Europe.
A Swiss or Russian watch?
The most useful information I found in a thread of 2014 on the Italian forum Orologiko.it to which we refer the reading and deepening (DIRECT LINK TO THE FORUM) in which we talk about the creation in 1993 of a company based in Switzerland named Ostwok SA. In 2002 the company was officially liquidated after having, as it is said, imported one and a half million Komandirskie watches. One of the unanswered questions is whether the watches were assembled in Switzerland or arrived directly in Switzerland ready to be marketed. There seems to be no certainty about that at the moment.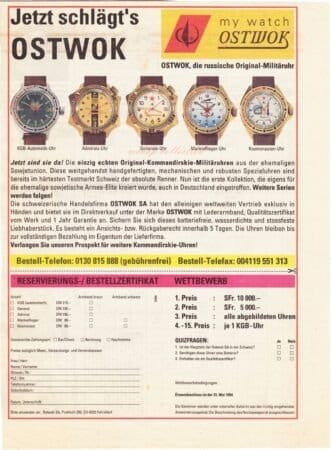 What is the difference with the Vostok "normal Komandirskie?
From what you can see, apart from the replacement of logos, there are no other obvious variations. The watches are in all respects, including the calibre, the usual Vostok of which you can find the corresponding in the catalogues of the 90s. The choice of models fell in many cases on cases finished tin. Personally, I cannot tell you if the choice of colour starts from tastes related to the market in those years or for commercial issues related to greater availability.
The watches were sold in a specially made kit consisting of a cardboard box in black or grey and a sheet with instructions and warranty indications.
Where to find information
Si trovano in rete informazioni riguardo agli Ostwok ma in maniera abbastanza frammentata e sporadica. Qui di seguito un elenco dei siti internet dove è possibile trovare informazioni:
---