ZIM watch dedicated to the city of Minsk of the 80s that mounts the proven calibre ZIM 2602 without shockproof. The dial commemorates the 40th anniversary of the end of World War II.
In particular, it honours the city of Minsk, the capital of present-day Belarus, which has been awarded the title of Hero-City.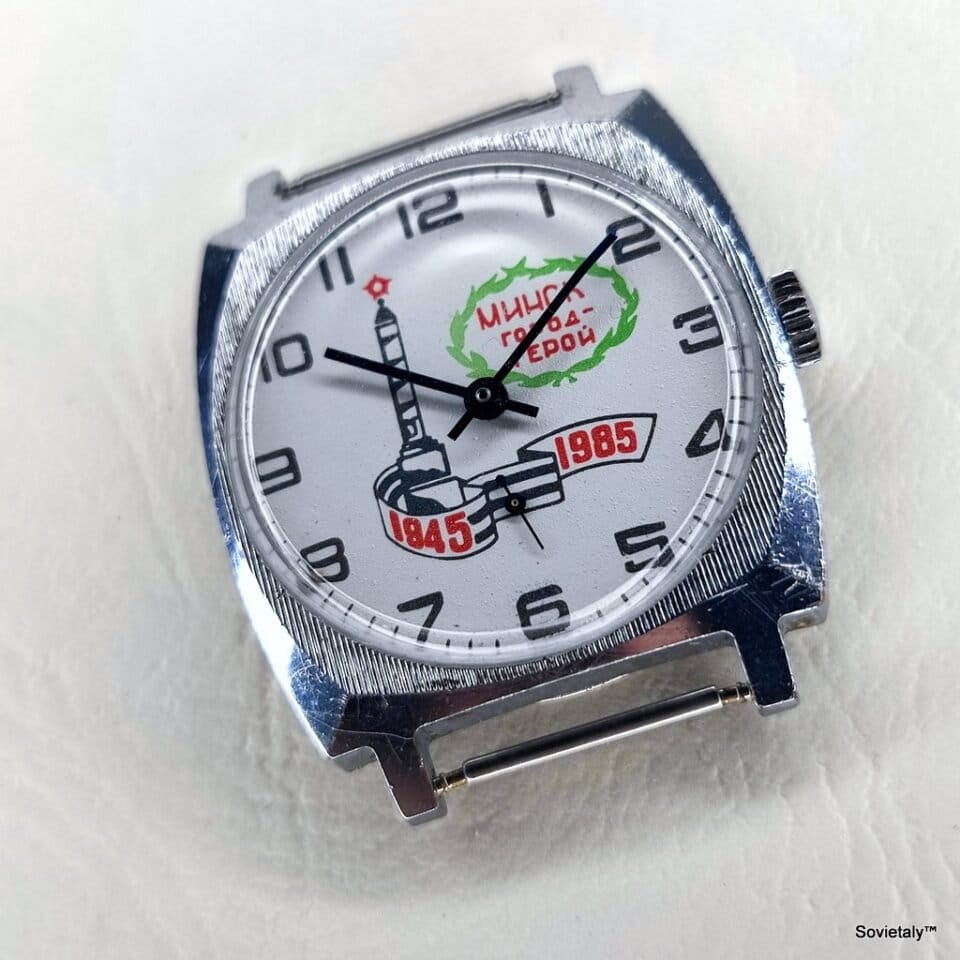 13 cities of the soviet Union, which distinguished themselves for courage and heroism during World War II, received the honorary Soviet title of Hero-City.
A symbolic award attributed to the city that corresponds to the individual honour of Hero of the Soviet Union, which was recognized together with the medal of the Gold Star.
Minsk during the Second World War.
But how did Minsk earn the honour of Hero-City? In June 1941, German troops surrounded the Belarusian city. During the clashes, the Soviet soldiers, despite the strenuous defence, had to yield, in early July. Over 300,000 Soviet soldiers were taken prisoner. The Minsk area became the focus of partisan resistance despite the very high number of civilian casualties during Nazi control.
In 1974, Minsk was awarded the honorary title of Hero-City.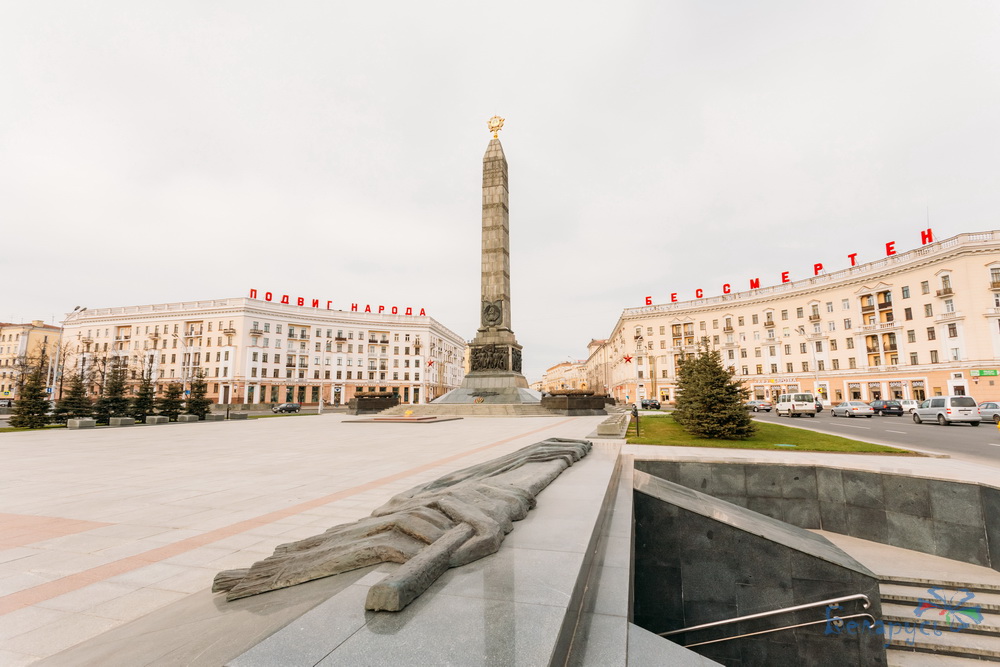 To commemorate the honour today there is an important monument in Victory Square which is today one of the main squares of Minsk.
The monument of victory in Minsk.
The Victory Monument, designed in 1946 and built-in 1954, is the monument visible on the watch face.
It is a 38-meter high obelisk topped by a reproduction of the Order of Victory representing one of the highest Soviet honours.
On the four sides of the pedestal are a series of high reliefs celebrating the exploits of Belarusian civilians and soldiers during Great Patriotic War.
Reliefs present on the base are:
Liberation of the motherland
Soviet army during the Great Patriotic War
Belarusian partisans
homage to the heroes who gave their lives for liberation
Under the square was built an underground memorial to pay tribute to the liberators of Belarus. On the walls of the restaurant are engraved the names of 566 people who stood out during the battles against the Nazi soldiers.
The watch
The watch is a classic Zim Pobeda in a rectangular case with rounded sides. On the dial is the Victory Monument with the dates "1945" and "1985" at the base to commemorate the forty years since the end of the war.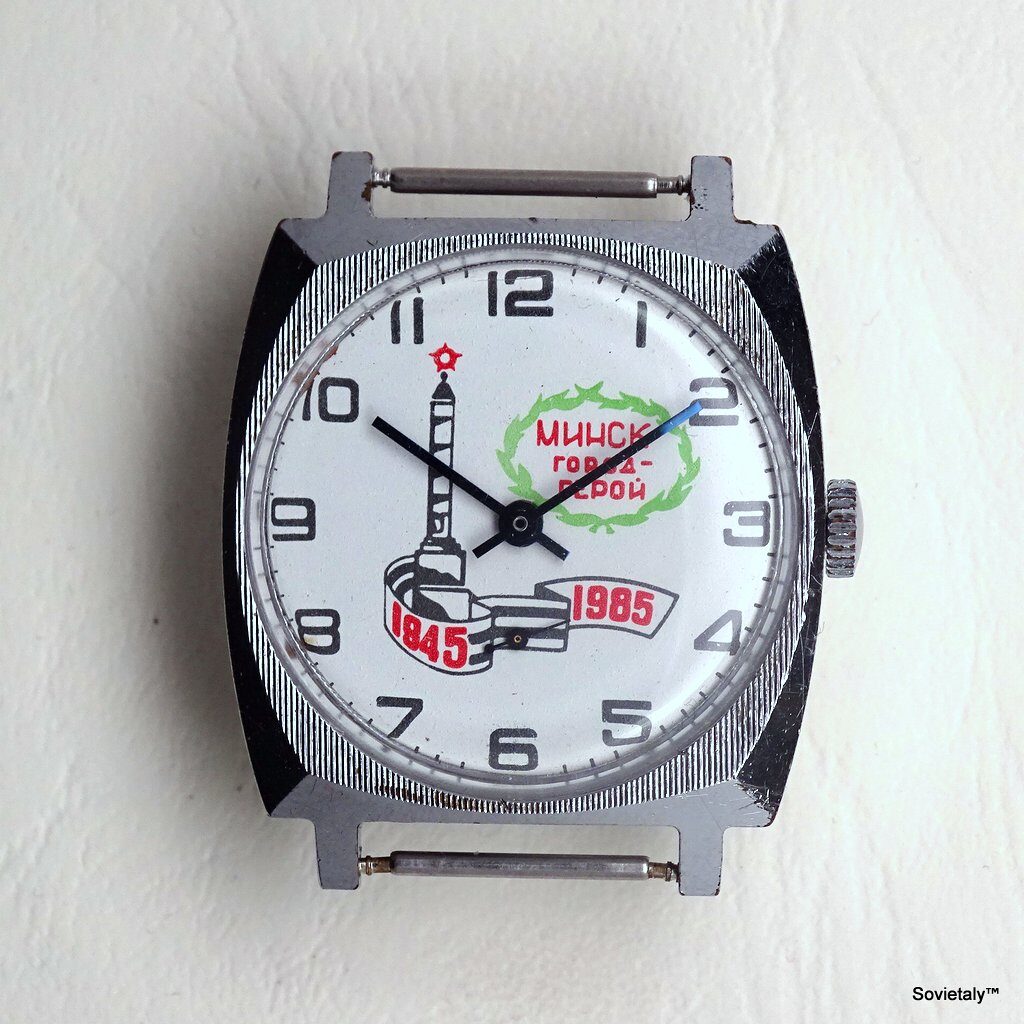 Written "МИНСК ГОРОД-ГЕРОЙ" meaning "Minsk Hero-City" heads the white dial of the watch beside the obelisk. Black hands and small seconds at 6 o'clock. The calibre is the classic 2602 used on many ZIM of the 80s.
DISCLAIMER
This watch is part of the sovietaly collection. Please ask for permission to use the photographs of the watch.